Areas of unevenness in your lawn can be both a nuisance and a danger. Mowing across bumpy turf produces unsightly results as some grass remains uncut as the mower dumps up and drops down. Low spots in your lawn tend to leave grass looking scalped. Then there's the challenge of trying to mow in a straight line. The result is a lawn that looks like it was mowed while wearing a blindfold! More importantly, dips and raised spots in the lawn can also be a safety hazard that can lead to trips and falls.
Regular topsoil is fine for filling in low spots with depths greater than 3 inches. But adding fine sand to the topsoil like the golf course turf pros do, results in a silky-smooth soil blend perfect for leveling lawns at depths of between ½ inch and 3 inches. This topdressing blend spreads easily, holds it depth and contributes to overall lawn improvement.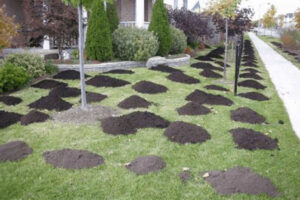 At Tim Wallace Supply we offer several lawn leveling options:
Topsoil: When you need to level your lawn at depths greater than 3″, topsoil is the best option.
Top dressing Mix (also a perfect base for laying sod or over-seeding)

50% topsoil and 50% fine sand
Both Topsoil and Top-dressing Mix are available for pickup or delivery. Both of these products are kept ready to be picked up in 1/2 cubic yard increments. Our delivery minimum is 2 cubic yards.  Call us at  (630) 759-5552 to set up your home delivery. To learn more about our Soil Blends for lawn leveling, visit our Soil Mix Supply website.