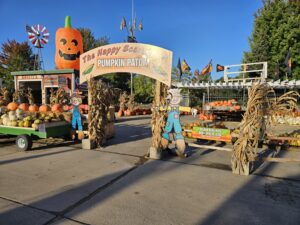 September 24 – October 31, 2023
Autumn in the greater Bolingbrook area is always a special time of year. A cool snap of air settles in, the landscape becomes picturesque and thoughts turn to seasonal staples such as football, fire pits, apples, hot chocolate and, of course, pumpkin patches.
The spirit will be strong at Tim Wallace Landscape Supply, where we'll be celebrating the season with our Happy Scarecrow Pumpkin Patch  from September 24 through Halloween. We offer "Painless Pumpkin Pickup" – no admission fee, no long waits and an overall budget-friendly shopping experience. We hope you join us as our grounds come alive with the sights, sounds and smells of family fun during the Illinois autumn. And as always, admission is free! 
Pumpkins from the Patch & Aunt Millie's Roadside Market
It starts with plenty of pumpkins – just look for the Happy Scarecrow Pumpkin Patch sign out front. We began planting farm-fresh pumpkins in 2013, and we continue to grow the choices our visitors love, including both orange and white giant and mini pumpkins. Our customers tell us our huge selection is "spooktacular". Simply grab a wagon and pick the ones you like most for purchase by the pound.
Stop by Aunt Millie's Roadside Market on Saturdays and Sundays to browse even more pumpkins, including for pie-making. And speaking of autumn delights –  grab a free pumpkin donut! We also have candy, soft drinks, kettle and carmel corn, specialty ice cream and display scarecrows in several sizes for sale.
If you're planning to add a festive flair to your home, you can shop our selection of fall decorations – including for Halloween – such as warty pumpkins, fancy gourds in all shapes and colors, jumbo mum flowers, straw bales (both mini and regular size) and corn-stalk bundles. 
You'll find jumbo mum flowers in the array of autumn colors for making your home displays really stand out. Our straw bales make great backdrops for your pumpkins, gourds and scarecrows too.
Farmer Frank's Tractor Town
Yet another highlight of this year's fall festival will be our exhibit of several of Farmer Frank's favorite construction machines. Kids and adults alike will be able to view, get close to and "touch-a-truck" as well as climb on board for photo opps. 
Located out front near the future home of the Frosty Dog Ice Cream Caboose, Farmer Frank's Tractor Town will be will be open daily during the fall festival.
Something for Everyone and Every Season
At Tim Wallace Landscape Supply, we love to see you get into the seasonal spirit. We also enjoy inspiring you with ways you can beautify and add character to your garden and landscape in the greater Bolingbrook area.
In addition to the Happy Scarecrow Pumpkin Patch with mum flowers, cornstalks, straw bales, Farmer Frank's Tractor Town, Aunt Millie's Roadside Market and pumpkins from the patch, you can visit our Garden Center nursery in-season to browse the many choices of trees, shrubs, mulch and perennials. Also check our Facebook page often for more festival details and updates. Better still – "Like Us" on Facebook and follow us year long.
And as always, our garden and landscape experts are here to support you whenever you have questions. Just give us a call at (630) 759-5552! "Quality products – Expert Advice" for all your landscape projects.