Tim Wallace started his business with local delivery of topsoil, sand and gravel to yard and landscape customers in 1984. Today, Tim Wallace Landscape Supply & Nursery still offers superb same-day home delivery for your project in our service area.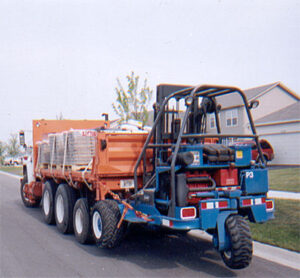 Our product line has expanded to offer you many more materials as well:
If you have your measurements when you call for local delivery service, our professional staff can help you estimate how much material you will need for your project.
We also welcome you to visit and explore our inspiring five-acre Bolingbrook Garden Center and Supply Yard to browse our hardscape and softscape materials. You can schedule your local delivery in-person at the Retail Center Front Desk, or over the phone!
Delivery Amounts
Topsoil, soil blends, compost, mulch delivery: min. 2 cubic yards (CY) up to 12 CY
Garden mix and mushroom compost delivery: min. 2 CY up to 12 CY
Sand, gravel, screenings, decorative stone delivery: min. one ton up to 12 tons
Pallet delivery (e.g. natural stone, Unilock products): min. one pallet up to 14 pallets (palletized material can be set near work sites that have forklift access)
Please note for residential sites:
12 CY and 12-ton loads are the largest for delivery in one truck.
Delivered material is normally unloaded onto the driveway. Requests for dump deliveries beyond the driveway are determined on a case by case basis by the delivery driver.
Loads cannot be deposited on the street, and delivered loads cannot be split.
Schedule Firewood Delivery Too!
When you need firewood, we can deliver half face, face cords or full cords (three face cords) locally to you for a $65 delivery fee (Delivery fees based on distance. Your fee could be higher.) Please note that firewood is unloaded onto the driveway (no stacking).