Also known as cut drywall, retaining wall stones are random sizes blended on each pallet. When estimating retaining wall stone, keep in mind that one ton will cover about 80 linear feet. Since each full pallet is 1.5 tons, it will cover approximately 120 linear feet.
Chilton Weather Edge
A colorful pick for drywall options, each pallet of Chilton Weather Edge stone features hues of grey, light purple, buff and light blue. Thickness ranges from 2"-3".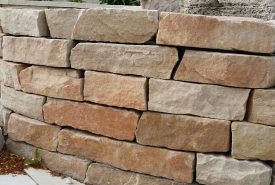 Desert Creek Drywall
Desert Creek Drywall is a warm-colored choice for cut drywall. Similar to the sweep of a desert, the stone's color composition varies in rich dark brown, rust and burnt sienna. Thickness ranges from 2"-3".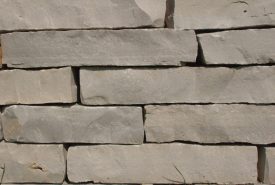 Eden Drywall
Available in varied light grey, Eden Drywall is a classic natural option for your retaining wall. As the stone ages, some buff coloring starts to surface. The material's consistent thickness further adds great strength and durability. Thickness ranges from 2"-3".
Eden Weather Edge Drywall
Eden Weather Edge Drywall has a buff, more colorful look along the edges. Its brown shading also gives it a warmer appearance as compared with the non-weathered option. Consistent lines and thickness can contribute to swifter installation as well, so you can enjoy the result even sooner. Thickness ranges from 2"-3" with various lengths.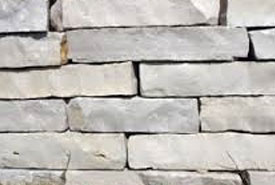 Mountain Crest Drywall
If you prefer clean, uniform lines, Mountain Crest Drywall is a superb choice. This cut drywall comes in pallets of consistent light grey. Thickness ranges from 2"-3" with various lengths.
Old English Garden Stone
Old English Garden Stone's grey, blue and subtle blue/green hues create a serene look and feel with each piece. Its smooth tumbled sides also give it a natural weathered appearance. Thickness ranges from 1.5"-2.5" with various lengths and diameters.
Sandalwood
Sandalwood tumbled stone can be used either as a warm-colored option for a retaining wall or as thick steppers. Its soothing color tones vary in brown, peach, salmon and light blush. Thickness ranges from 2"-3" with various lengths.
Buckskin
A soft-edge, tumbled stone, Buckskin has light, warm hues of white, cream, rust and orange. The stone's different lengths and diameters create a natural irregular look as well. Buckskin is great for short retaining walls with an extra burst of color. Thickness is typically 3" throughout the irregular shapes.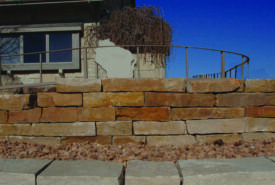 Winnebago Cut Drywall
Winnebago drywall is rich with tones from warm buff to deep brown and burnt sienna that are non-fading.  This sandstone material brings the warmth of the Sedona desert to your backyard with it's rugged texture and unique color profile. Thickness averages 4-5″.