The Happy Scarecrow's Pumpkin Patch
In 2013 we began growing pumpkins at our nursery. Giant orange, giant white, small white pumpkins; all the awesome varieties you just can't find anywhere else. We also carry a selection of unique gourds in all shapes and colors. Whether you want large or small – we have them all.
Mini pumpkins and fancy gourds in all colors and shapes, straw bales and mums add the finishing touches to your fall decorating.
You can find our pumpkins, gourds, and fall/Halloween decorations at Aunt Millie's Roadside Market. Pumpkins are sold by the pound. Grab a wagon and load your pumpkins on the scale by the office. The scale is a brown metal plate in the ground, located on the west side of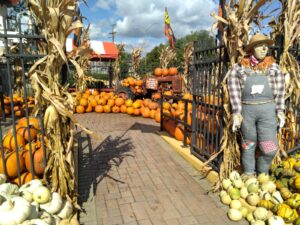 the building. Leave your wagon on the scale, weights are digitally read in the office. All purchases are completed inside the garden center office.