Natural stone such as Flagstone and Steppersare most often used for a natural stone look on patios, sitting areas and stone walkways. Banded in sizes starting at 18" and pre-weighed at 1.5 tons (3,000 pounds), each full pallet covers approximately 120 square feet. Because flagstone is a natural product, it may include color variations.
Chilton
A vibrant flagstone, Chilton has hints of grey, blue, brown and light purple (variances differ with each pallet). Because of its smoother finish, it can be desirable for stone walkways or patio stone with a lot of foot traffic.
Eden
Eden is a classic-looking flagstone with a smooth texture and an array of grey and buff colors. Its low heat absorption on sunny days also makes it cooler and easier to walk on with bare feet.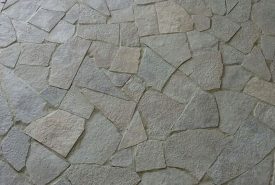 Mountain Crest
Similar to Eden flagstone, Mountain Crest is grey and buff in color. Its texture's larger dimples also give it extra foot traction for patio stones or stone walkways in wet or mossy areas. The pieces range from 16"-42" in diameter and are 1.5" thick.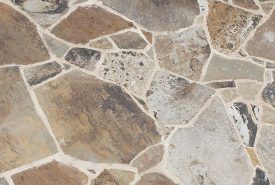 Black Hills Rustic
True to its name, this consistently thick flagstone has a rustic brown, rust, grey and black color scheme that varies by pallet.
Golden Quartz
Tranquil and warm in appearance, Golden Quartz is infused with mica and quartz that give it eye-capturing gold and silver details. Include it in your flagstone project for distinctive pops of color!
Grand Canyon
Grand Canyon flagstone offers a rich range of reds, plums and browns in every pallet. Its natural patterns paint each section of your patio or stone walkway with originality.
Pennsylvania Blue Stone
Currently Unavailable. Imbued with warm and cool colors, Pennsylvania Blue Stone has an irregular shape with a cleft texture for a wonderfully natural look. It is 1"-2.5" thick and ranges in diameter.
Other Natural Stone, not shown here, may be available at our Landscape Yard. Stop in to check .