As you enter our facilities from Boughton Road, you will notice Aunt Millie's on the right, and the future home of Frosty Dog Ice Cream Caboose on the left! Aunt Millie's changes with the seasons so feel free to drop by and see what's new and exciting each season!
In the spring and summer Aunt Millie's offers perennials, annuals and ornamental grasses for your container pots and flowerbeds. Roses and hydrangeas can also be found under the canopy of Aunt Millie's paver patio at peak bloom times.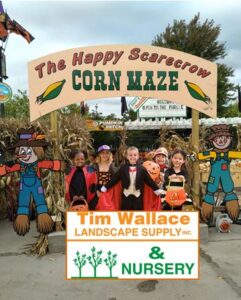 In the autumn, Aunt Millie's transforms into the Happy Scarecrow's Pumpkin Patch offering pumpkins fresh from our farm in Oswego, Illinois!  Come and pick from our wide selection of giant orange, white, and warty pumpkins and gourdes.
Your fall decorating wouldn't be complete without jumbo mums, straw bales, corn stalks, and scarecrows! Each year we have a great selection of jumbo mums in all of the autumn colors that would make your fall displays really stand out. We sell straw bales year round, but they make exceptionally nice backdrops for your pumpkins, gourdes, and scarecrows in the autumn!
This year, join us every weekend in October for the family friendly "Happy Scarecrow Fall Fest"! As we do every year, we'll have our amazing selection of pumpkins, gourdes, jumbo mums, corn stalks and straw bales. But this year the kid-friendly Corn Maze returns! New this year, we will feature a different area-favorite food truck every Saturday and Sunday. Tim will also display several of his vintage farm tractors in Farmer Frank's Tractor Town – which
makes for a great photo opportunity with the kids. Aunt Millie's Roadside stand will be open with sweet treats like kettle corn, farm fresh donuts and warm pretzels. Check our Facebook page often for more details and updates as the Fall / Halloween Season approaches.